Anderson Orchard is one of a handful of orchards in Indiana that offers the unique experience of picking your own produce!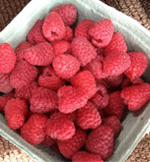 Red Raspberries, Blue Plums, Pumpkins, Apples, and Chestnuts are available throughout the season.
Visit our Apple Varieties page for availability of your favorite apples. For up-to-date availability information for all of our produce, visit our News page.